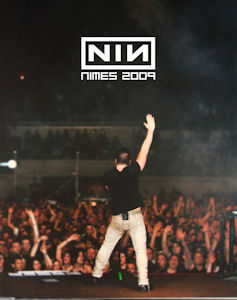 During one year we collected the amateur videos from 15 different people (3 were HD720) and edited the audio & video from it to recreate a 110mn long complete widescreen stereo dvd from the last french NIN concert ever. We worked in lossless 720p format until the final mpeg2 compression
PAL widescreen, pcm stereo, double layer, french (forced) & english (complete) subtitles.
making of, trailer, photos
+HD versions of three songs with only 3 HD cams already available since christmas 2009
Edit : TrAsHCoK & Ninjaw P.B.
Menu+Cover : Terenn & Ninjaw P.B.
Ce concert, y compris la bande sonore, a ete restaure depuis les sources originales
de multiples enregistrements de fans. Certains passages ont souffert du manque
de sources, nous nous en excusons d'avance.
La bande sonore a beneficie d'une restauration separement de la video.
La restauration a ete effectuee dans un respect maximum des sources, il n'y a eu
qu'un reencodage final de la video, la bande-son n'etant meme pas compressee.
Ce concert ne peut etre vendu, il a ete filme, restaure, et distribue
gratuitement par et pour les fans.
This show, including soundtrack, has been recovered from original fan recordings. Some parts have bad quality by lack of sources, we're sorry for that.
Soundtrack has been recovered separately from the video.
We recovered with respect for the sources, there has been only one final video compression, sound isn't even compressed.
This show cannot be sold, it's been recorded, recovered, and shared for free by the fans for the fans.
avec les cameras de :
TrAsHCoK
ALEXXXLUTHOR
CRYPT-X
LINDERFANN
Davisjunior
SEBGOB
STILLALIVE
WATTIEB88
MEMO
HOLOGRAMM
Ninjaw P.B.
VICIZMI
rorschach3476
Andreaongaro
Barbie
Pirlouiiiit
Home
1000000
Letting you
Sin
March of the pigs
Piggy remix
Metal
The line begins to blur
Head down
Burn
Gave up
La mer
The frail
The wretched
Non entity
I do not want this
The downward spiral(instru)
Wish
Survivalism
Mr self destruct
Echoplex
The hand that feeds
Head like a hole
Hurt